ASIAN AIR ARMS

Research Group
PRICES
All sheet prices are shown.
Postage for the UK is £1.00 for up to 3 sheets and £1.75 for more.
For international postage please send me your order details and I shall advise you of the postal cost.
​
Please use the form below to order decals. Payment is preferably accepted using PayPal.
After you send your order, I shall confirm it, send you an invoice and advise payment details.
Although I'm always fairly busy with "other things" I shall try to ensure that your order
will be sent within 5 days of your cleared payment.
Any profits made by the sale of our decals contribute to the running costs of the SIG and website.
AD1: India, Pakistan,
Sri Lanka, Bangladesh
£8.50
AD2: Afghanistan,
Myanmar, Thailand, Laos
£8.50
AD3: Cambodia, Malaysia,
Singapore, Hong Kong
£8.50
AD4: Brunei,
Papua New Guinea, Indonesia, Philippines
£8.50
AD5: Vietnam,
Taiwan
£8.50
AD7: North Korea,
South Korea, Mongolia,
Nepal, Bhutan
£8.50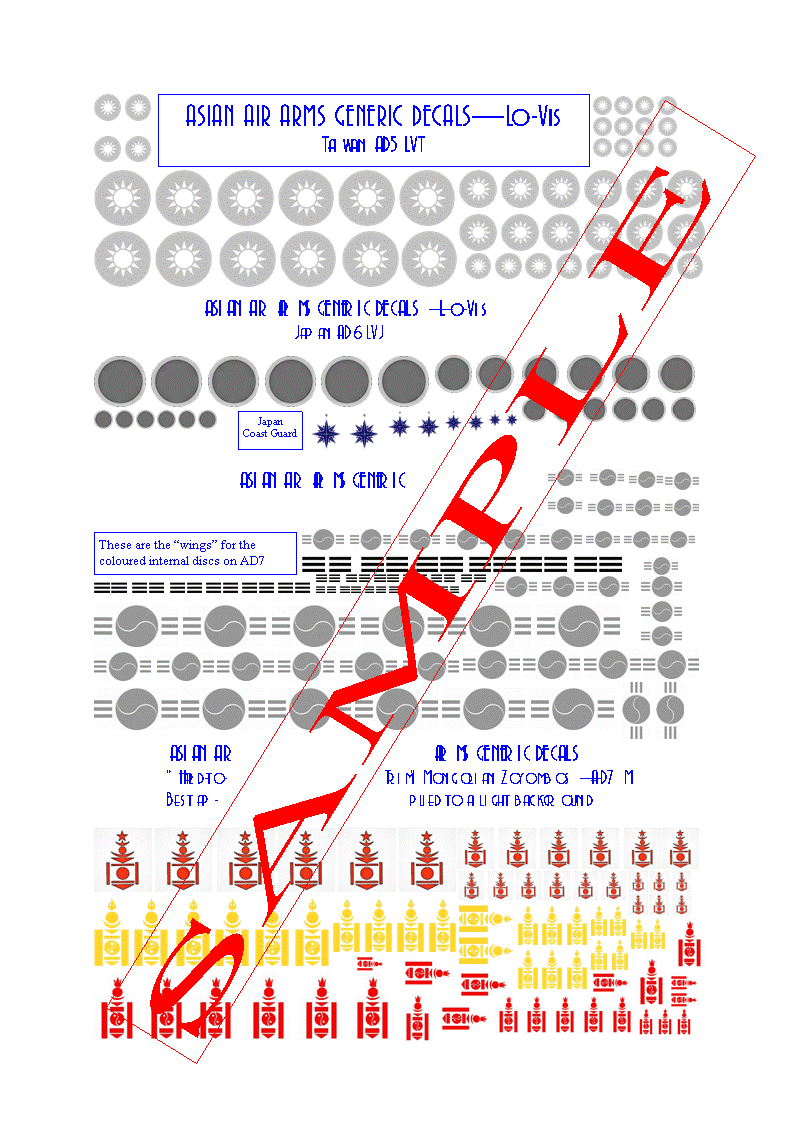 Lo-Vis 1: Indonesia, Philippines, Singapore,
Hong Kong, China.
£8.50
Lo-Vis 2: Taiwan, Japan,
South Korea, Mongolia
£8.50
AS.1
Cambodia/Khmer Air Force
£6.50
AS.2a
Royal Malaysian Air Force (Early)
£6.50
AS.2b
Royal Malaysian Air Force (Late)
£6.50
AS.3
Royal Thai Air Force
£6.50
AS.4
Laos People's Army Air Force
1/72 £3.50; 1/48 £4.50